Love yourself, 4 day retreat in the red mountains of sedona
SEPT 21-25, 2023
Sedona is truly a place of pilgrimage and spiritual growth. Everyone who comes to Sedona has been called by the Spirit of Sedona. It's your time for a change, healing, transformation, release, clarity; and for finding fulfillment in your life. If you are seeking spiritual transformation this program is for you. It all begins with Self Love. Prove to yourself that you deserve a getaway to retreat and recharge.
You will learn tools and processes to activate self love, confidence and embody personal power. You will have a bucket full of wisdom for your personal transformation. You will get back renewed and confident to create your best life. We will take numerous photos and off course lots of selfies. "Love-Your-Selfie Retreat" will be your gateway for you to find love, give love, and live your life surrounded by love all the way. We are looking forward to sharing this amazing time with YOU!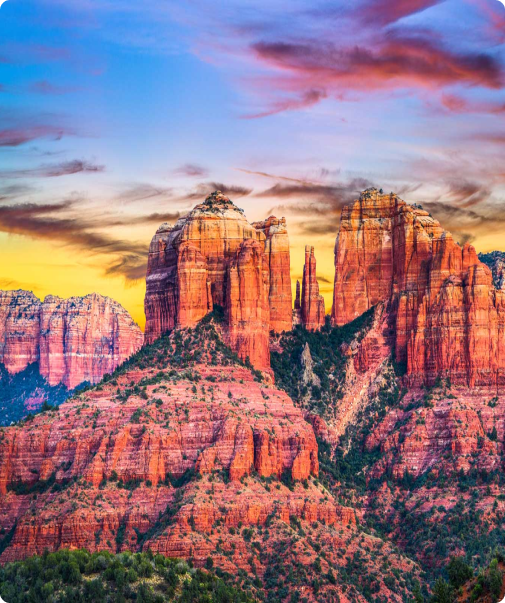 Each day Rosane will guide you on a vortex experience. You'll be riding on the jeep to the most amazing kept secret locations in Sedona. You'll enjoy a picnic by the creek, walk the Navajo medicine wheel, participate in a chakra balancing session, and bathe under the full moon night at the sound of the didgeridoo and crystal bowls.There will be other amazing facilitators helping Rosane create a transformative retreat for you.
PRE- RETREAT ONLINE SESSION
We are excited to offer a Pre-Retreat Session that can help you gain clarity about your goals and desires before attending the retreat. This online session is a valuable opportunity to approach the retreat with intention, creating a roadmap to guide you throughout the experience. By identifying your goals and desires, you can get the most out of the retreat and make the most of your time in Sedona. You will be able to get answers to any questions you may have about what to expect during the retreat. We believe that starting your retreat journey with a clear and focused mindset is crucial to maximizing the benefits of the retreat and returning home feeling refreshed and re-energized. We are committed to supporting you every step of the way on your transformational journey. The Pre-Retreat Session is an essential part of that support, and we encourage you to take advantage of this opportunity to set yourself up for success. Let's work together to unleash your inner potential and create a life that you love!
DAY ONE
Day One of the retreat provides an opportunity to connect with other participants, enjoy amazing storytelling, and learn about vortex energy on a trolley ride through Sedona's magnificent landscape. This day offers a relaxing and enjoyable start to the retreat, allowing individuals to unwind, let go of stress, and feel rejuvenated. The combination of relaxation, education, and connection sets the tone for the entire retreat, leaving participants feeling energized and inspired.
DAY TWO
Day Two of the retreat provides a range of benefits, including the chance to release stuck energies and let go of worries during a delicious picnic by the creek with stunning views. The heart chakra session at the Labyrinth in the afternoon allows individuals to connect with themselves on a deeper level, let go of self-doubt, and embrace self-love and compassion.
At sunset you will experience Sedona's vortex energy on a mountain top! This is an unique and unforgettable experience that provides a range of benefits. By magnifying the powers of intention and releasing your vision to the Universe, you can gain a renewed sense of clarity and purpose. The energy of the vortex promotes feelings of excitement and energy, and being in this place you feel liberated, empowered and inspired to pursue their goals.
DAY THREE
Start the day with a mind-blowing session at sunrise with a Native American Shaman to awaken self-love within, and a 360-degree view of The 7 Canyons Vortex at sunset, perfect for photos and selfies. These experiences provide unique opportunities for self-growth, connection, and relaxation. This magical experiences will make you feel renewed, re-energized, and inspired long after the retreat has ended.
DAY FOUR
Get ready to shop until you drop and discover the hidden gems and crystals of Sedona's most beautiful shops and art galleries. You will have the opportunity to find souvenirs, gifts and treasures that you won't find anywhere else!
The retreat ends with a mesmerizing stargazing sound bath, immersing participants in the soothing sounds of crystal bowls and didgeridoo while enjoying the full moon and gazing up at the stars. These experiences provide a unique and unforgettable combination of fun, adventure, and relaxation, leaving you feeling inspired and empowered long after the retreat has ended.
POST RETREAT ONLINE SESSION
Join Our Post-Retreat Debrief Session to Gain Valuable Insights and Create a Plan for Moving Forward in Life. The session is designed to help participants maintain the momentum and motivation gained during the retreat, identify action steps and connect with others. It is a crucial part of the retreat experience to support participants on their transformational journey beyond the retreat.
RETREAT MEALS
We call it: Savoring Sedona! A Delicious Culinary Experience in the Heart of Arizona
The retreat provides delicious meals prepared by Chef Mark Callender, including continental breakfast and sandwich lunches. Participants will also have the opportunity to experience Sedona's local cuisine at a variety of restaurants every night, offering a chance to connect with others and indulge in delicious food.
Get ready to indulge in Sedona's delicious cuisine and savor every bite!
And let's not forget about the company! Sharing a meal with others is a great way to connect and build relationships. You'll have the opportunity to bond with your fellow retreat participants over delicious food and drinks, making memories that will last a lifetime.
Retreat Coach Facilitator
GET VORTEXED with Rosane!
I believe life situations and relationships have a body, a mind and a soul, and life is like a dance, moving and flowing in different rhythms. Through self discovery, we are able to shift our destiny and beat the drum according to our own rhythm, igniting the power within to heal and to grow gently and effectively. I confidently guide my clients through this process of "embodiment and integration."
Leave us an email, to get
the latest deals, offers and newsletter